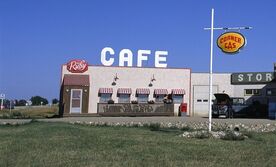 The Ruby Cafe is the local restaurant attached to the gas station owned by Lacey Burrows.
It was passed to Lacey by her aunt Ruby after she died. It was originally called Ruby's Cafe (revealed in the menus for the Season 3 DVD collection), but Lacey renamed the place "The Ruby" to honour her late aunt. The Cafe is often visited by the main characters and is usually one of the main settings in Corner Gas. Brent often eats a chili cheese dog there.
Wanda switched jobs with Lacey in "Happy Campers", and prepared bad food. She got Karen to help her, who enhanced the menu and added better foods than were made by Lacey that were already on the menu.
Josh works there as Lacey's cook and busboy, and is seen in the background in most of the episodes.